If you are following us on Instagram, you know that we spent a wonderful week of family holiday in the volcanic setting of Lanzarote in the Canary Islands. Like every summer, we organized a trip with the grandparents. This time, we chose this land of fire that delighted us with its landscapes, its great spaces, its climate, its beaches, its little white villages with cubic houses, with blue or green shutters, not to mention the artistic heritage created by César Manrique. We were based in the centre of the island, in Nazaret, with a dozen of volcanoes in sight. Memorable lunar-like landscapes that will be etched in my memory. During a week, we had time to explore the island deeply. I don't know the rest of the Canary Islands, so I can't compare to Tenerife, Fuerteventura, La Palma, La Gomera, Gran Canaria or even El Hierro, but there is no doubt that Lanzarote is a big crush that I recommend for a trip with the kids, or just as a couples gateway! Finally, I have been delighted to practice my Spanish, especially since we are going back to Spain in a couple of days for the 40h birthday of our friends in Valencia.
Age of Ticoeur: almost 6 years old
Age of Titpuce: 3 years and a half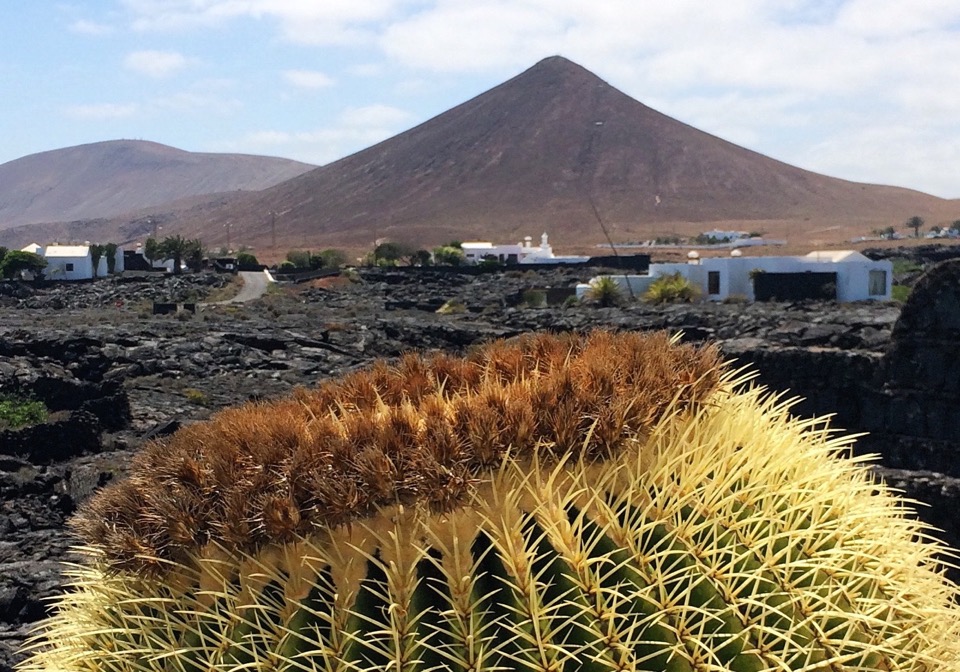 Winning duo: cactus and volcano!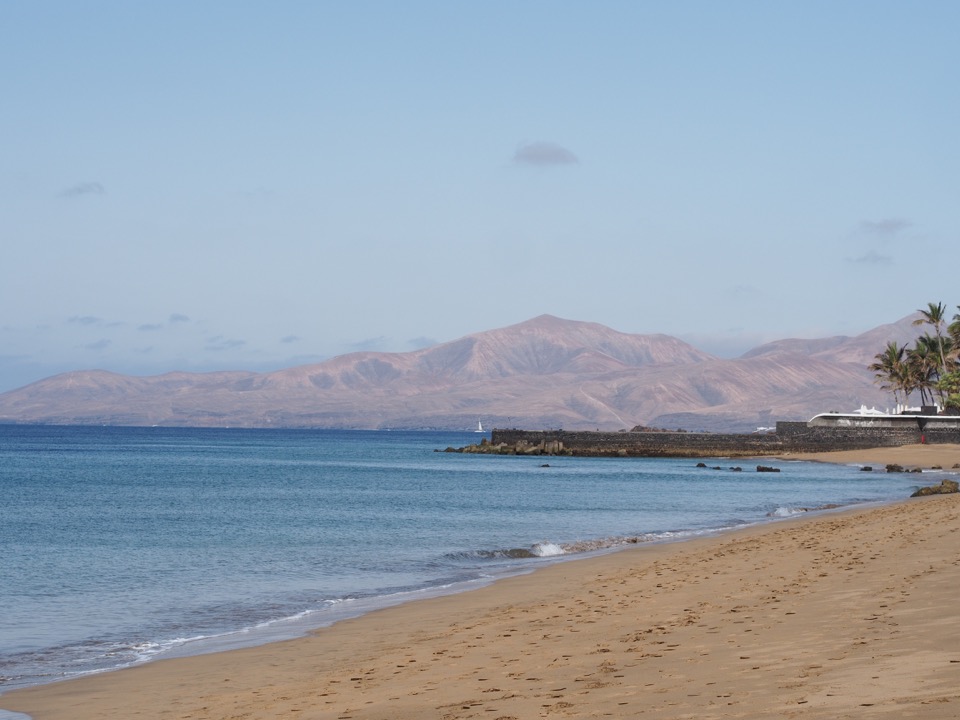 Playa Grande in Puerto del Carmen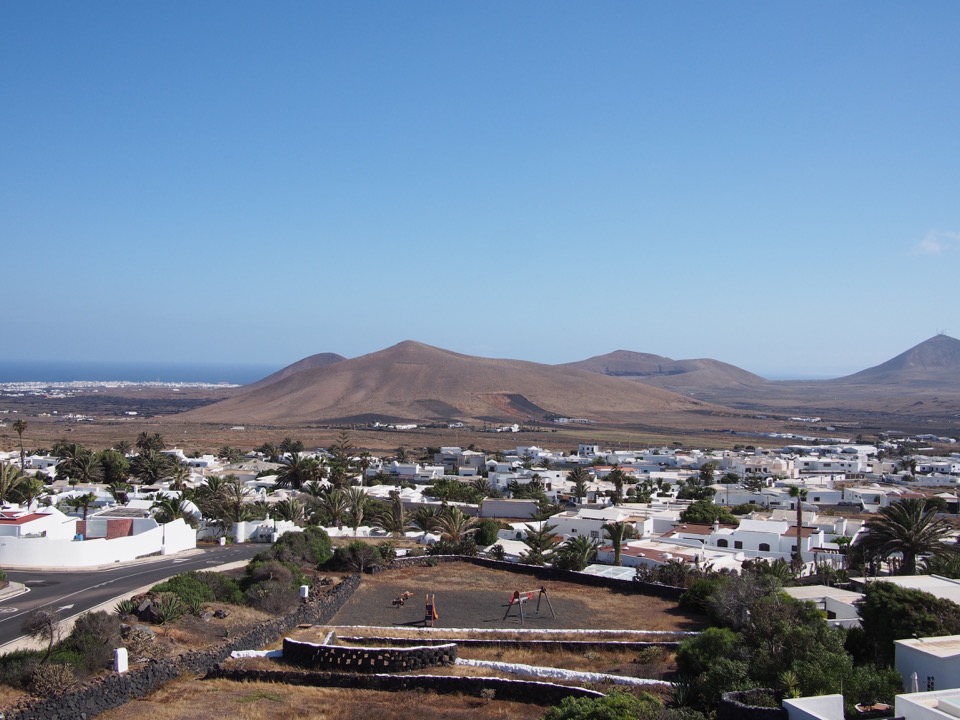 View from our house
 Program of the week:
D1: Arrival in Arrecife around 3pm. We get our car then go direction our villa in Nazaret. We enjoy the swimming pool with the view on the volcanoes
D2: Visit of la Cueva de los Verdes, a cave formed by lava. Beach near Orzola. Lunch in Arrieta. Back to the villa: nap and swimming pool.
D3: Craft market of Haria. Visit of la Casa César Manrique. Nap and swimming pool then visit of the César Manrique Trust. End of the day on the beach (Jablillo).
César Manrique trust

D4: Market of Teguise. Beach of Famara where we lunch. Visit of the Cactus Garden. Nap, swimming pool then visit of Lagomar, also called "Omar Sharif's house".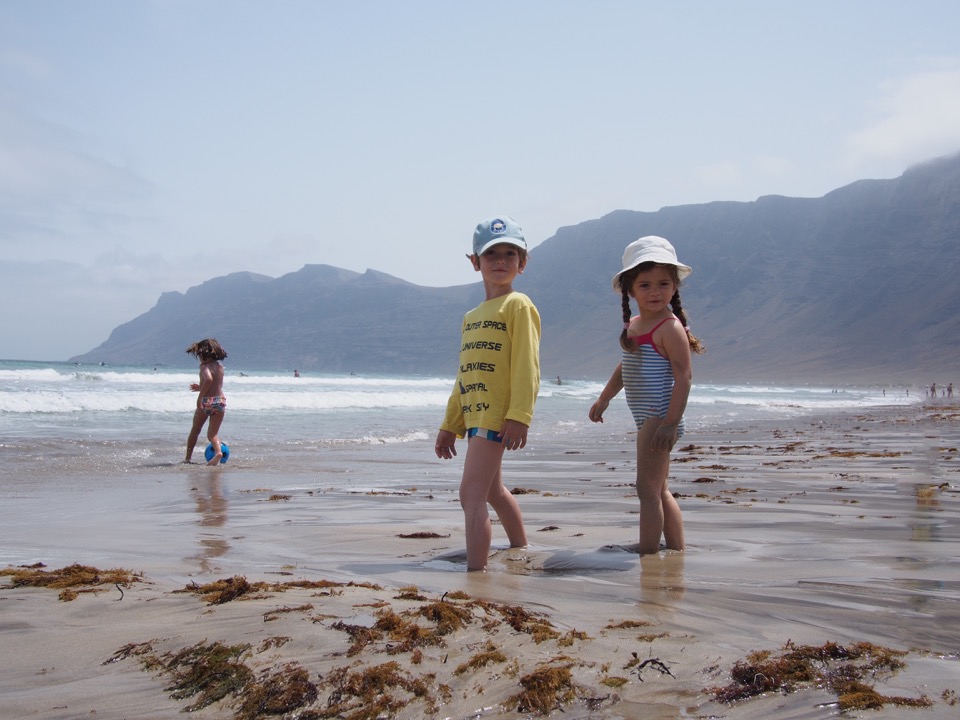 My little ones in Famara
D5: Papagayo beach. Lunch in Playa Blanca. Nap and swimming pool. Visit of Jameos del Agua then direction the Mirador del Rio.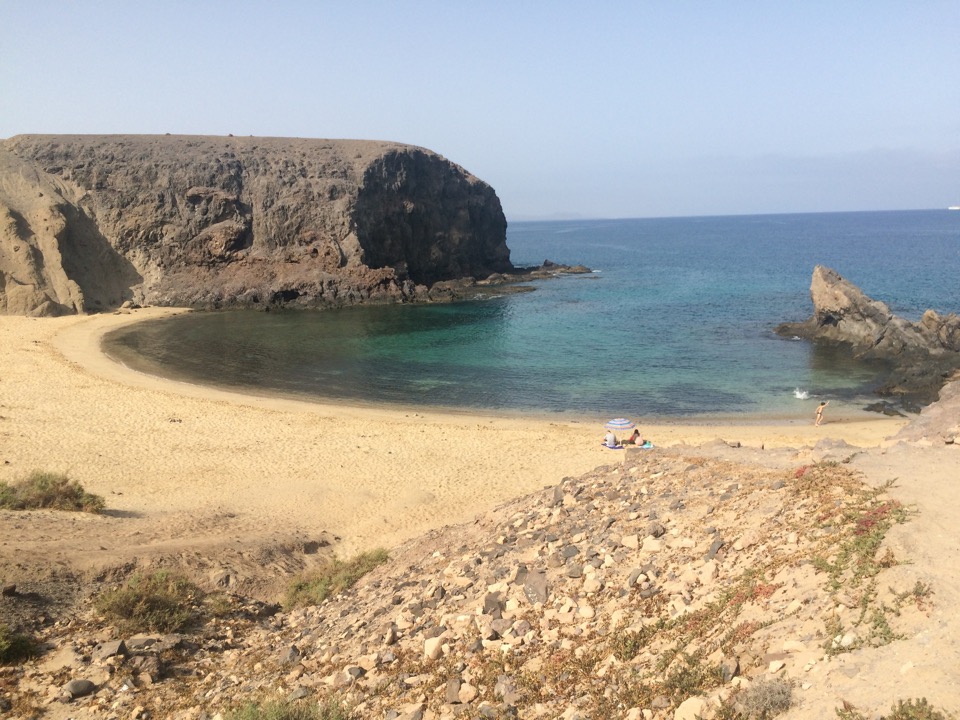 Playa Papagayo
D6: Walk in los Hervideros (volcanic landscape on the seaside). Direction El Golfo to see its Laguna verde and its little fishermen village where we have lunch. Visit of the parc of Timanfaya to admire the volcanoes from a closer place. Swimming pool.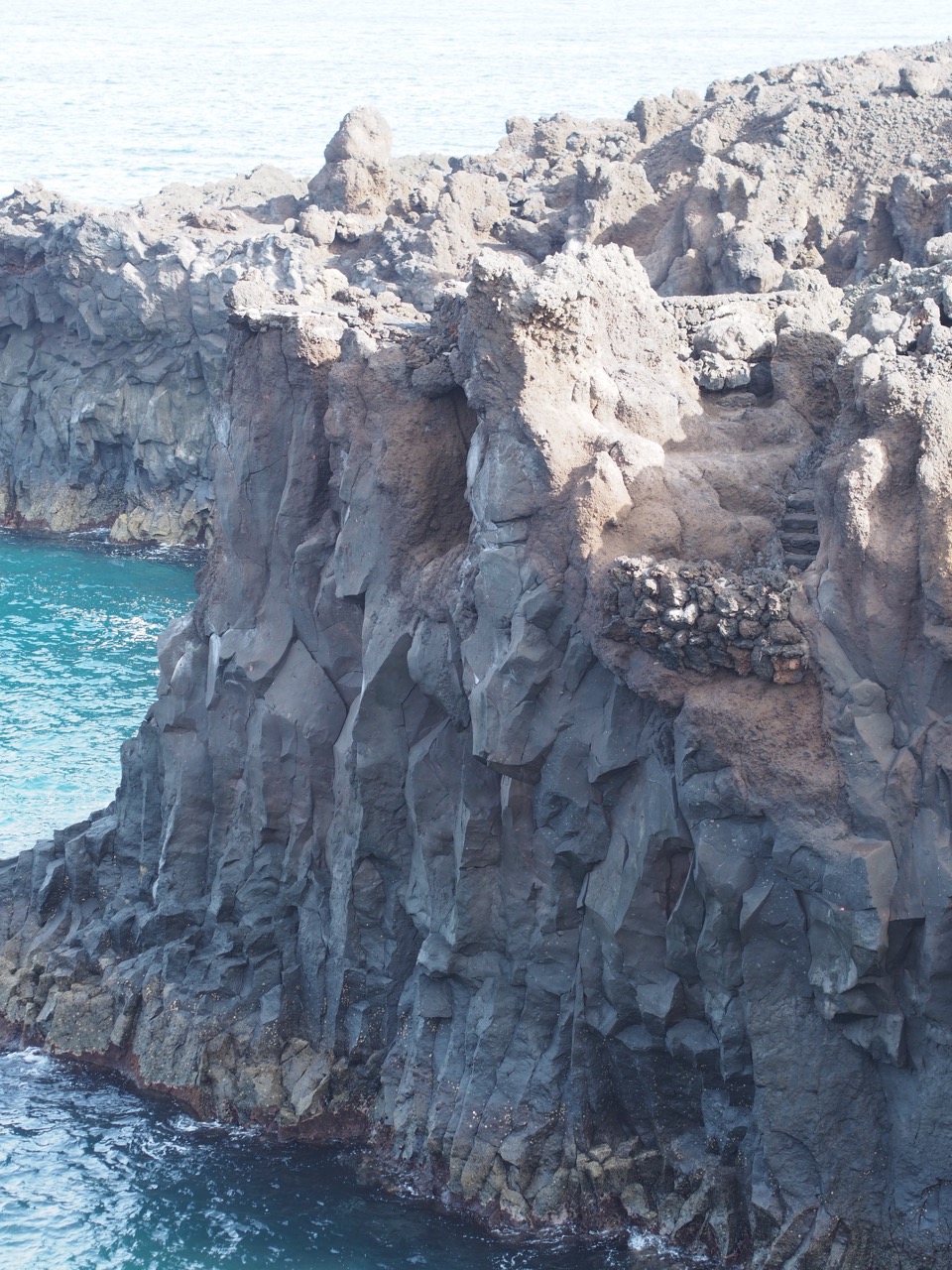 Los Hervideros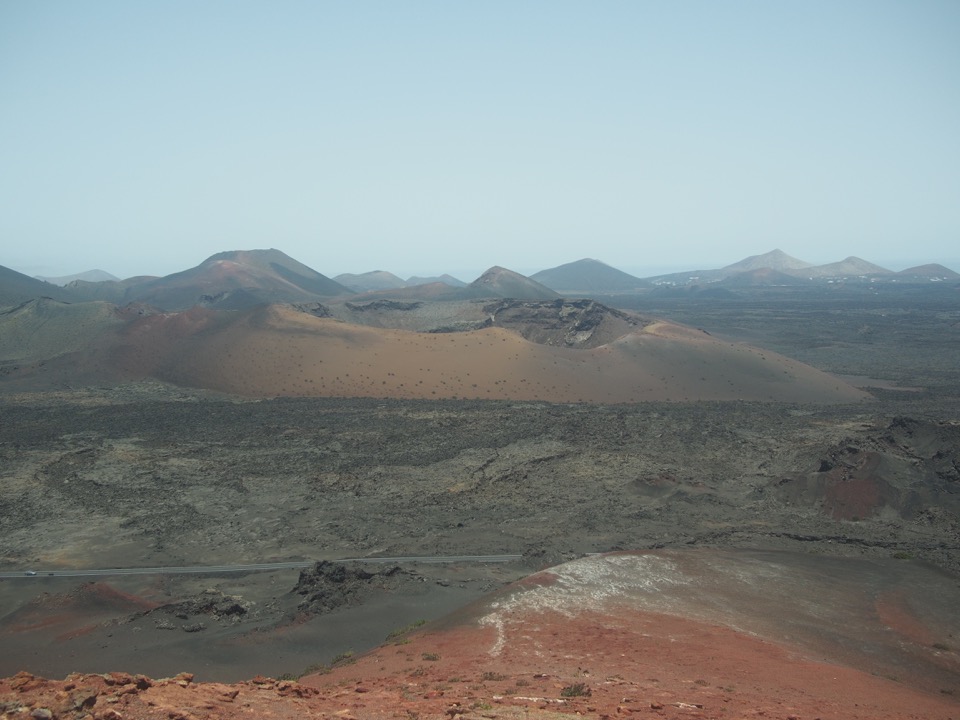 Timanfaya
D7: Bathing in Playa del Carmen then visit of the house of the Portuguese writer José Saramago, Nobel prize for Literature. Lunch and stroll in Arrecife, the capital of the island. Nap and swimming pool. Crossing of the grapevine landscapes of La Geria.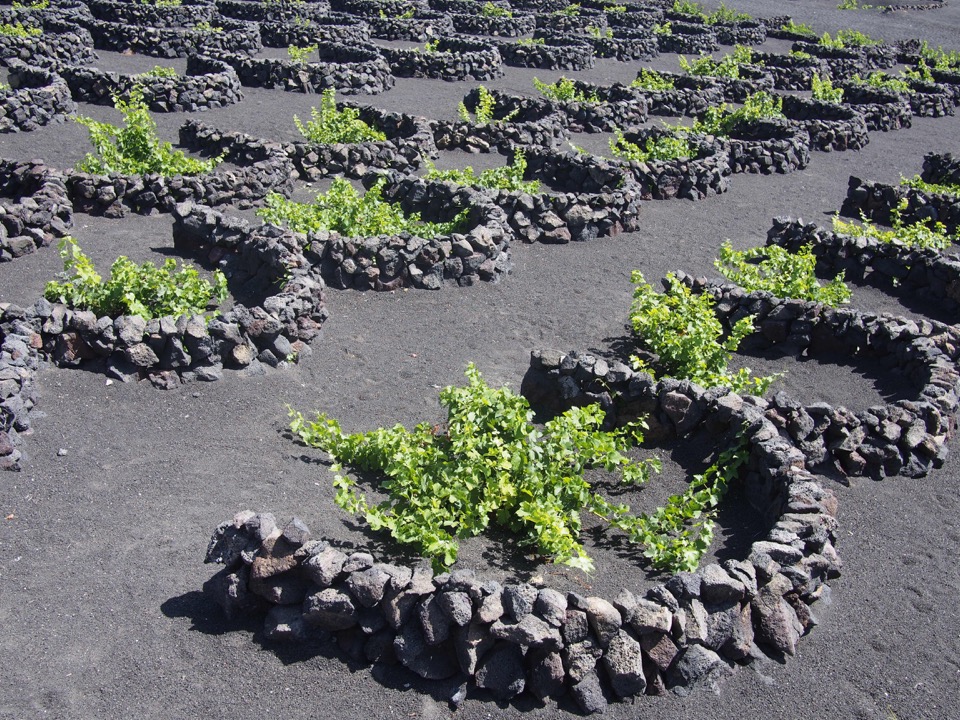 Dry cultures : the grapevine of La Geria
Practical informations:
Season of the trip: end of June – beginning of July. We had 25-28°C and the weather was very nice every day, with sometimes a few clouds in the morning and a big blue sky from noon. The water sea was 19-20 °C. it was perfect for me and the children, but too cold for my husband who only likes tropical water of 30°C 😉
Duration of the trip: a week, and I found it was perfect.
Plane: flight to Arrecife. I booked the tickets in December for July and we had a very low price (170€ per person).
Jetlag: 1 hour less than in France (so same time as in England).
Equipment for children: only the car seats for each of them because, as often, you can take them for free in the plane, so it's much cheaper than to rent some once on the spot. No stroller.
Luggage: 2 cabin baggages for 4 !
Health: Nothing to anticipate.
Car rental: We rented a car for about 80€ for the week. Really cheap! Moreover, petrol is only 1€/L.
Accommodation: we booked a villa with a swimming pool in Nazaret following the advice of my brother-in-law and sister-in-law who already rented and loved this house last year. The landlords are English -> Casa Mimi (prices depend on the period, the number of persons and the change rate of the pound sterling). In our case: 800€ for a week (3 bedrooms). I give you this beautiful address because some of you have asked me but you should know that you really have to anticipate to book it because very often the house is full. While doing it 6 months in advance, there were only two weeks left in 2015! Be careful: there was no security fence around the swimming pool so we were always with the children. Otherwise, it's just the perfect rental place: nice decoration, amazing view, all the comfort we needed and a nice garden.
Meals: a destination as Lanzarote is a dream for people like us who adore fish! Squids, octopus, sardines, sea food… Yummy! Everyone feasted on it! A lot of local fruits and vegetables that are really good, especially tomatoes!
Visits: I recommend the pass that costs 30€ and gives you access to the 6 main sites to visit in Lanzarote (free for children under 7)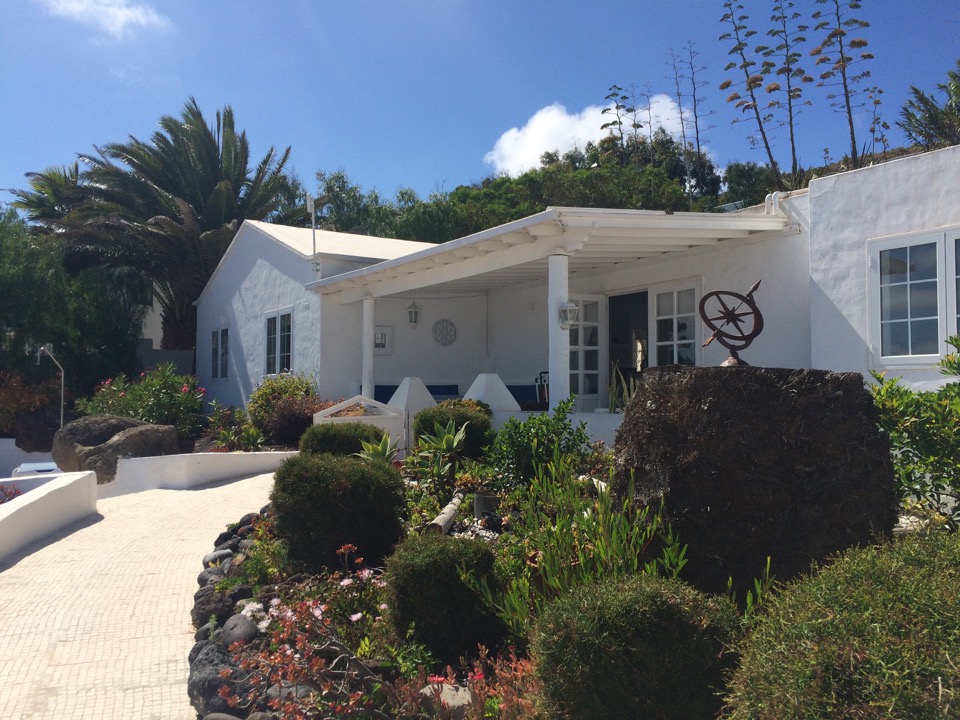 Casa Mimi
The "plus side" with the children:
Beautiful beaches with golden sand on the East and South coasts (read my blog post about the most beautiful beaches of Lanzarote).
A nature that intrigued them, especially the cactuses and the volcanoes.
Ticoeur loved La Cueva de los Verdes and he appreciated the artistic creations of César Manrique; Titpuce preferred the Cactus Garden.
The children loved the bathing in the heated swimming pool of our villa.
Very short drives. Since we were in the centre of the island, we only had between 15 and 35 minutes to go to most of the places we wanted to visit, or to the beaches.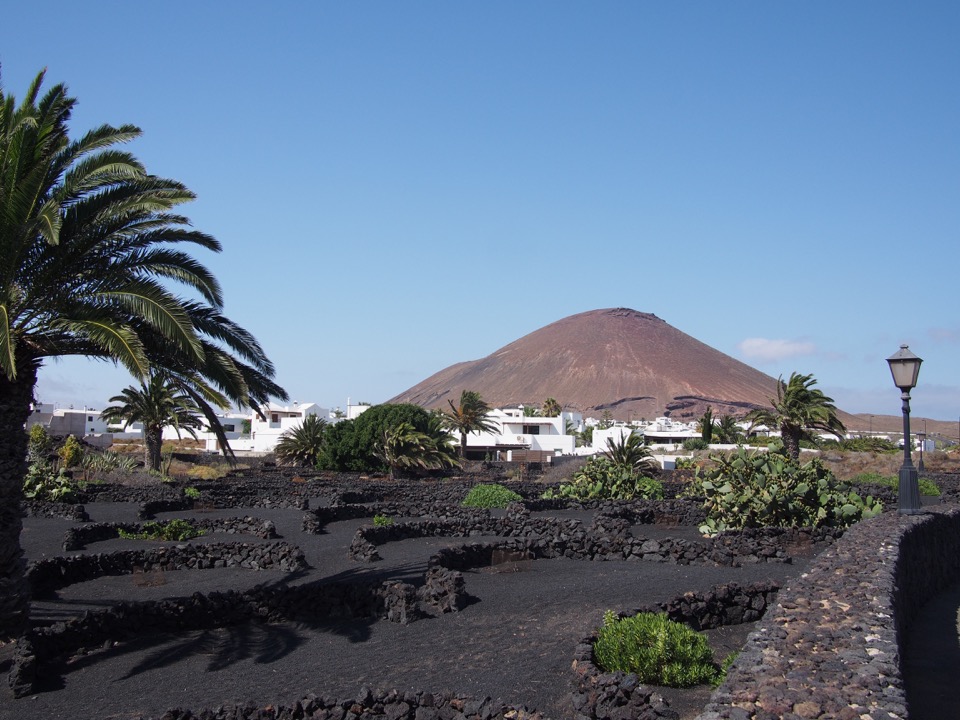 Our good restaurant addresses:
Sol in Caleta de Famara : big crush! Grilled fishes, squids and octopus on the beach facing Famara cliffs (15€/person)
Casa Torano in El Golfo : Second crush! Beautiful terrace on the water's edge with another beautiful menu of sea food (15€/person)
Casa de la playa in Arrieta : sardines, octopus, squids (10€/person). Very simple, very pleasant.
Barstro à Nazaret: (16€ per dish/ 6€ for dessert). Perfect if you're looking for a more gastronomic and elaborate cooking. Conscientious service.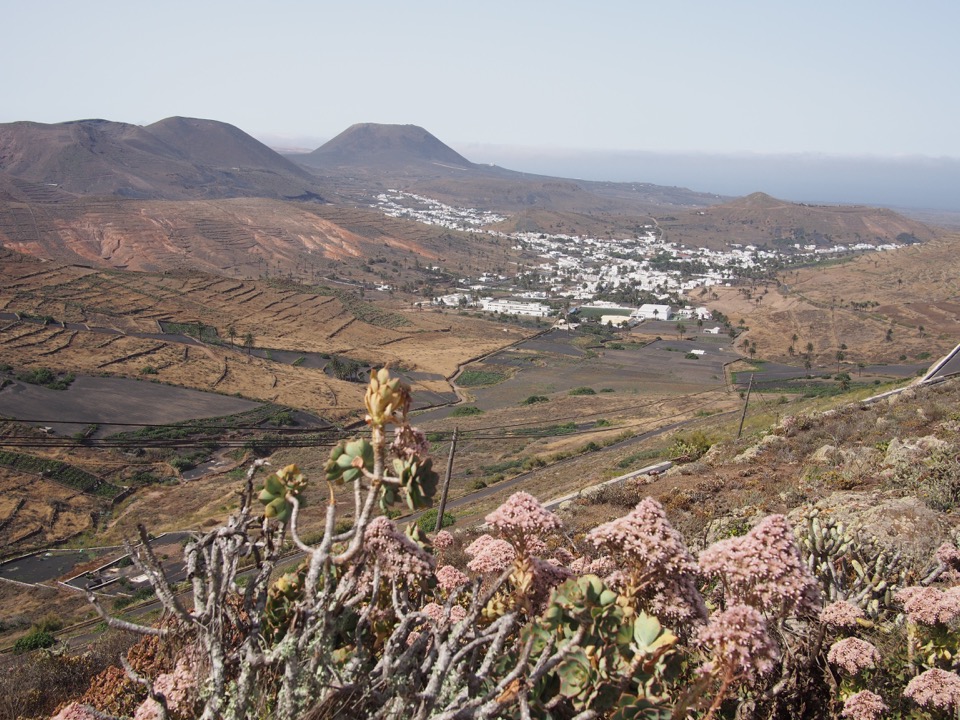 What about you ? Are you tempted by holidays in Lanzarote?